Dr. Martin Luther King Jr. Community Celebration
Indiana Tech welcomes Dr. Maurice A. Stinnett, inaugural Vice President of Diversity and Inclusion for BSE Global, to help us celebrate the life, legacy and achievements of Dr. Martin Luther King Jr.
Although events are free to attend, we ask that you please register as seating is limited and a ticket is required for entry.
Events
Indiana Tech Day of Service
"Life's most persistent and urgent question is: What are you doing for others?" -Dr. Martin Luther King Jr.
In commemoration of Dr. Martin Luther King Jr.'s legacy of unity and service, we invite you to join us for Indiana Tech's Day of Service on Monday, January 20, 2020. On this date, a selection of opportunities will be available for faculty, staff, and students to engage in service to the Fort Wayne community.
For each project, we will meet in Andorfer Hall (outside Student Affairs) 30 minutes prior to the project start time. Please note that spaces are limited, so make sure to register below.
Monday, Jan 20 | 8:30 a.m. – 12:00 p.m.
From 8:30am-12:00pm, we will partner with the Rescue Mission where we will have a chance to assist the staff and residents though various projects. The Rescue Mission provides restorative care to men, women and children experiencing a homeless crisis. They serve Fort Wayne, Allen County and its nine surrounding counties. To register, please visit https://rescuemissionserviceday.eventbrite.com.
Monday, Jan 20 | 1:00 p.m. – 4:30 p.m.
From 1:00pm-4:30pm, we will be working with the YMCA at NeighborLink. NeighborLink works to build bridges between needs and resources by assisting volunteers as they give back to the community. Volunteers will be working with senior citizens, persons who are differently-abled, low-income families and people facing life's circumstances. To register, please visit https://indianatechdayofservice.eventbrite.com.
Community Celebration Breakfast
Thursday, Jan 23 | 8:30 a.m.
Multi-Flex Theater, Snyder Academic Center
This breakfast is open to the entire community and will feature Dr. Stinnett's keynote address, "Sustaining a Spirit of Hope." To register, please visit https://mlkcelebrationbreakfast2020.eventbrite.com.
Fireside Chat with Indiana Tech Students
Thursday, Jan 23 | 6 p.m.
Schaefer Athletic Center
Dr. Maurice A. Stinnett will lead a discussion with Indiana Tech students.
About Dr. Maurice A. Stinnett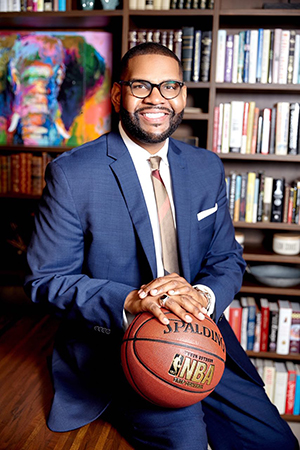 Dr. Maurice A. Stinnett is an experienced leader and expert in the areas of diversity, inclusion and equity across nonprofit, education and corporate sectors. He serves as the inaugural vice president of diversity and inclusion for BSE Global, which owns and operates state-of-the-art venues such as the Barclays Center, and premier sports franchises including the NBA's Brooklyn Nets.
In his role at BSE Global, he creates innovative programming tailored for inclusion and cultural competence and provides leadership and support across BSE's brands. Dr. Stinnett was the first black man to be appointed vice president of diversity and inclusion for an NBA team.
Dr. Stinnett's prior experience includes roles in higher education and non-profit leadership. He most recently served as vice president of engagement and chief diversity officer at Cleveland State University, where he successfully led the institution's response to a university crisis that received national attention and ignited debates regarding the distinction between free speech and hate speech. Prior to joining CSU, his experience included serving as dean of students at Central State University; senior director of community engagement and education at CentroNia, a multicultural, bilingual education non-profit located in Washington, DC; and as chairmain for the World Leadership Program, a White House initiative under the Obama administration that sought to spark learning and dialogue between graduate students and universities in the Middle East and the United States.
Dr. Stinnett is an energetic presenter who is a fierce advocate for equity and inclusion. He holds a Bachelor of Arts in Business from Central State University, a Master of Divinity from Princeton Theological Seminary and a Master of Education and Doctor of Education and Organizational Leadership from Columbia University.